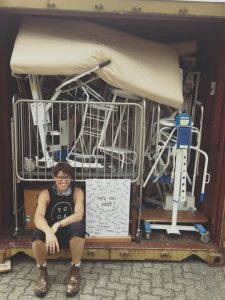 What does 'Lekker' mean? 'Cool' in Afrikaans, and this certainly was a very cool project for the 4 Good Foundation!
In February 2016 a group of project managers took on a challenge which saw them get a bit more hands on than usual.
Here's the logistics: Take 48 hospital beds from a disused Hospital in Adelaide and pack them into a 40ft container, where they will be shipped almost 10,000 KMs to Mozambique, then taken by road to the final destination of Malawi. Add in thousands of dollars worth of medical equipment, good humour, many awesome FGF volunteers, seamless project management, grants and crowd funding from SA locals and you have Project Lekker!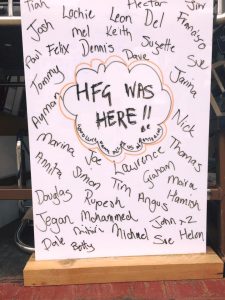 Professor Nyengo Mkandawire came to South Australia from Malawi as a student in the 80s. He was here as part of a project training Orthopaedic surgeons at Flinders University under a commonwealth program to spread the knowledge and capability of surgeons across the world. After his studies, he went back home to Malawi as a qualified surgeon to set up a teaching hospital in there.
Prof Nyengo's connection with Adelaide brought him back to work on this project. There were hospital beds and equipment left redundant after the closure of Blackwood Private Hospital in Adelaide's Hills.  The beds would be too costly to reconfigure for use in Australia, so why not send them to where they can be used and are greatly needed.
Marina Pullin from the 4 Good Foundation commented:
"Our 40ft container arrived in Mozambique on the 27th March. The lack of drama in the project logistics is rather inspiring. I want to say a huge thanks to those who have donated cash and time and thus helped to make this Project Lekker successful.

The beds, equipment and surgical instruments will make a huge difference to this country. We have delivered not just a bed, but the possibility of a heat capability to be grown or expanded."
After clearing customs, the equipment will travel via truck to Malawi, where it will be received by the Malawi Teaching Hospital and the amazing team headed by Professor Nyengo.
Not only will the people of today benefit from practical improvements, but by helping the doctors and broader community to become better educated, it'll change lives and heath standards for generations to come.
How does this connect with family violence?

Great question – we have big hopes for the Blackwood Private Hospital wing which after it's closure has been left unused.  Watch this space for exciting developments on our vision for the future of the Blackwood Private Hospital wing in our continuing combat against family violence.